It's the EP edition, and there's no time to waste. They are basically a shorter version of an album. Wikipedia it for the ins and outs. EPs are good because they give a succinct look into the artistic vision of the artist, and being that a lot of modern listeners don't have a long attention span (yeah, I know I mentioned attention span last week -- sue me), EPs are a good way to get folks to listen to your entire project.
Sasha Keable, Black Book (EP)
Location: London, Britain (UK)
A random discovery on Soundcloud, this is another artist from Europe that I am now obsessed with. I always find their take on soul music interesting, as of course, it is an interpretation of what started here in America. Sasha Keable is pretty awesome. I usually start these reviews with how I came to know about or how I met the artist being reviewed. Having never met Sasha, the story isn't that deep. I was searching soul music on Soundcloud, and getting pissed off that people had put the label "soul" on such an amazingly vast amount of ...well, crap. I'd promised myself that if the next artist I clicked was as terrible as the last, I'd resign myself to the fact that Soundcloud was a cesspool of ridiculousness with only a miniscule amount of actual talent... kinda like the industry. I clicked Sasha.


Black Book EP is an honest look into what happens in relationships from the perspective of being happy, sad, hurt, the one hurting the other person, etc. I like Sasha's voice because I find that a lot of times when European (or just Caucasian) female soul singers try to do riffs/runs, they end up doing too much (see Christina Aguilera -- I love her, but she does too much, guys). Sasha keeps it simple in that department. The songwriting is also straightforward and amazing. My favorite song "Nice Side" says in the hook "Thought you coulda been the one for a minute/But you don't know love when you're in it/Thought you coulda been the one for a minute/Maybe that's why I overdid it." Now who can't relate to that?! As a songwriter, I have a love/hate relationships with "why didn't I think of that?" moments, but they come often on this project. The production is a mix of analog and digital, with what sounds like live piano and computer generated drums. Usually, I talk about a bunch of songs from the project, but you guys should have the feeling I felt when discovering this project. It's really a gem. You can download Black Book EP for FREEEEE at www.sashakeable.com.
Siaira Shawn, Ghost (EP)
Location: Brooklyn, New York
I'm gonna do something I rarely do... well, never do. When I first met Siara, I didn't like her. I had one reason: I thought she could sing better than me. Lol. Well two reasons -- I thought it and my producer thought it. That was almost 7 years ago, and back then, we were both right. I took my discipline less seriously. Anywho, after she completely ignored my sullenness in that way that Virgos have, we actually became cool with each other, and I started to appreciate and be annoyed by her music. There were a lot of moments where I was like "Sia, WTF are you doing, blood?!" Over the years, she made a lot of music that I just didn't understand in the story of her aural aesthetic. She has been the poster child for the adage "the art only has to make sense to the artist." I think that this is a part of the journey to get to a project like this.
A San Francisco native, Ghost EP is Siara Shawn's magnum opus. Her proverbial pyramid that will leave listeners, when we have all turned to dust, wondering how she made it. The production on "You" starts with a sample, and WOULD have grinded my gears if it didn't fit so perfectly with the vocals. Having worked with her in the studio, Sia has this way of adlibing where she echos and harmonizes with herself in the same line. It's her thing, I'm sure others have done it, but... it's her thing. It makes her distinct as a vocalist. Always a fan of her songwriting, Sia comes out of the gate swinging: "Immersed in you/In the warmth of your fire/Ashes to ashes/Baby I'll never tire..." It doesn't have incredible rhyme scheme, but it DOES have incredible imagery. The title track, "Ghost," has a first line that made me pause: "I wanna make a home with you... but your house is still haunted, a ghost in every corner." Almost EVERY person I know either is dealing with, or has dealt with, their partner's inability to let go of their ex in totality. It is cryptonite in a relationship. That sentiment is captured in a way that gets in your face (see Musiq Soulchild's Previous Cats), and forces you to confront the possibility of losing what you have because you can't get over what you had. This is a really, REALLY good project, and I get it. You can cop Ghost EP for a mere $6 on Siara Shawn's Bandcamp page. Please don't just go and listen to the thing, without buying it. Support independent artists.
This week, I only have ears for Talia M. Taylor and Maya Songbird.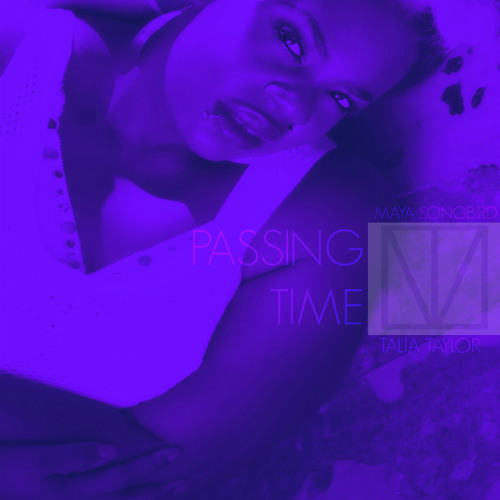 ARTISTS: Talia M. Taylor & Maya Songbird
LOCATION: Bay Area, California
WHY I LIKE IT: I have a playlist on Soundcloud called 'Weird ish I fux with,' which is where a lot of Talia's music will end up, I think. When I say "weird," I mean unconventional and inventive, which is why it makes complete sense that TMT teamed up with my favorite African birdie, Maya. I like this song because it shows that Talia can rock with singers who have been doing it for a long time, and has a great instinct for collaborating. She also continues in this very ethereal sound that she has created, song by song. I'm anxiously awaiting the album.